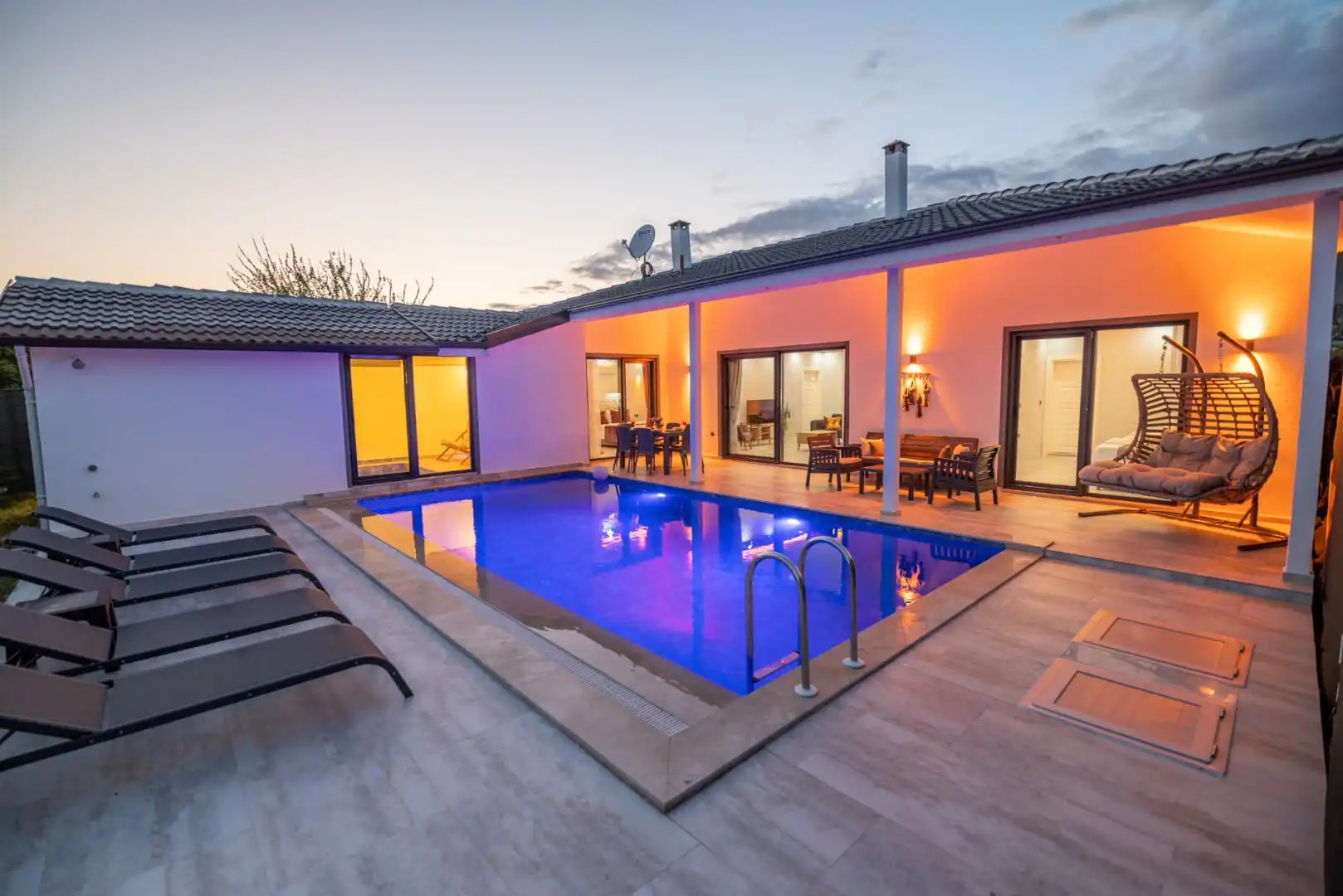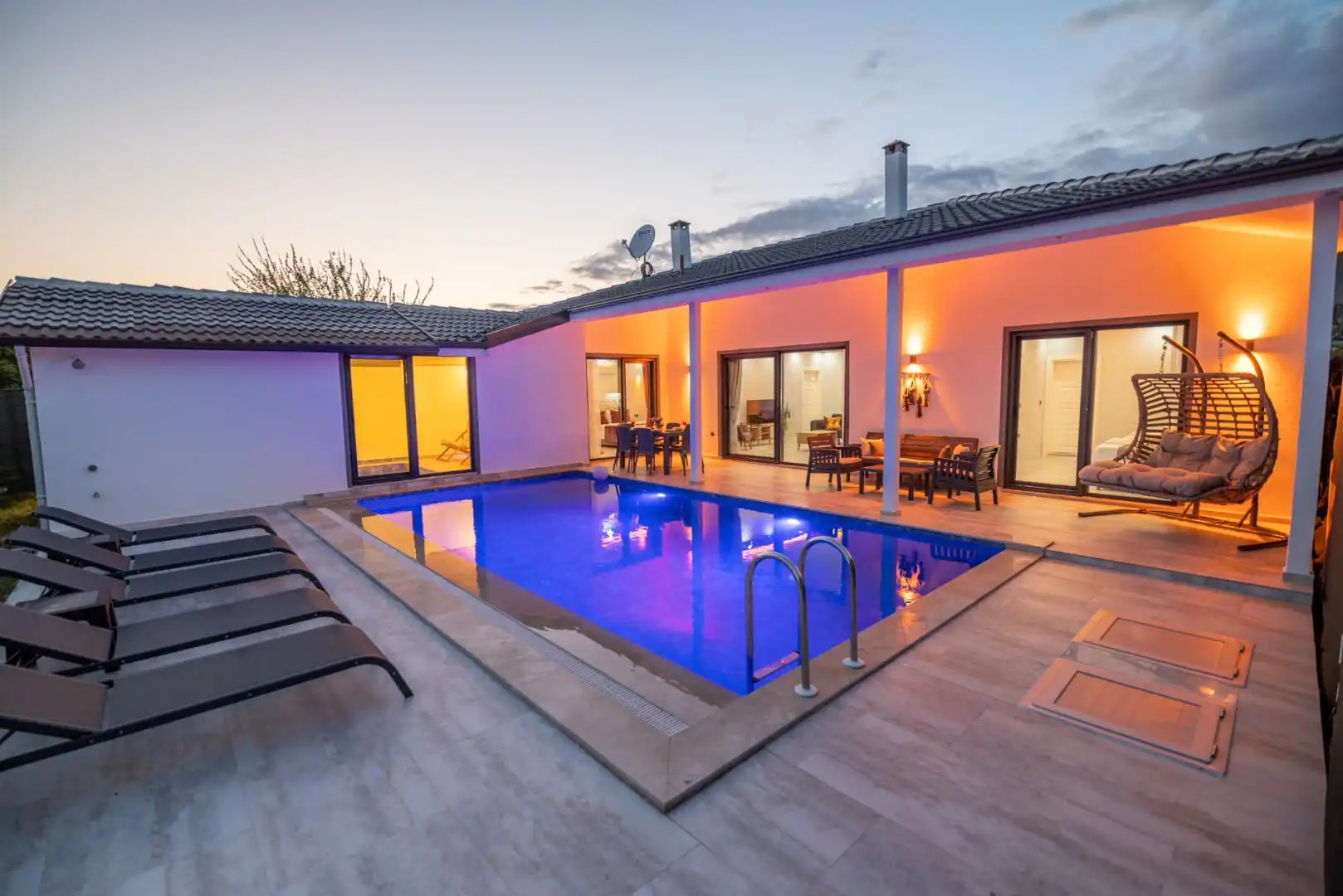 Mugla / Fethiye / Yaniklar
VİLLA KOZA DUO
VR-4447
Nightly Price Range
£ 81
-
£ 235
AIR CONDITIONING
There is
Villa Description
Villa Koza Duo is located in the Yanıklar region of Fethiye, Muğla. A peaceful holiday awaits you in the Yanıklar region, where you can be intertwined with nature and where green and blue meet!
Our villa has 2 bedrooms, 2 bathrooms / WCs and has an accommodation capacity of 4 people. With its detailed kitchen and barbecue in the garden, you can cook all kinds of meals with your family and have a good time. Thanks to its sheltered pool, you can have fun with your family on the hottest days of summer and enjoy the pleasure of sunbathing in the lush nature. Villa Koza Duo will be honored to welcome you.
Note: There is Villa Koza next to our villa. It is an ideal option for our guests who want to rent more than one villa.
Note: There is an indoor pool heating system in our villa. Our guests who request pool heating should notify their request at least 3 days before their stay. An additional charge of 500 TL per day is applied.
Read More
Features
Swing in the Garden
Honeymoon Villa
Indoor Pool
Garden
Pool Information
Private Pool Type

Ractangle

Pool Length

8 m

Shelter Status

Fully Conservative

Pool Width

4 m

Pool Depth

1.5 m

Indoor pool

there is

Uzunluk: 3.5 m Genişlik: 3 m Derinlik: 1 m
Services included
Using Electricity

Included in the price

Using Water

Included in the price

Wifi

Included in the price

Pool Care

Included in the price

Gas

Included in the price
Check-in/out Time
Villa check-in Time

16.00

Villa check-out Time

10.00
Rules
No smoking
No pets allowed
Party can't be planned.
Suitable for children (2-12)
Suitable for infants (0-2)
Breakage Deposit

£ 80

Cancellation Policies

SHOW
Weekly Price Chart
1 June 2023 - 5 June 2023

Minimum Rental Days

3 Nights

6 June 2023 - 25 June 2023

Minimum Rental Days

3 Nights

26 June 2023 - 5 July 2023

Minimum Rental Days

3 Nights

Daily 235

£

Weekly 1.643

£

6 July 2023 - 31 August 2023

Minimum Rental Days

5 Nights

Daily 230

£

Weekly 1.612

£

1 September 2023 - 15 September 2023

Minimum Rental Days

5 Nights

Daily 186

£

Weekly 1.305

£

16 September 2023 - 30 September 2023

Minimum Rental Days

3 Nights

1 October 2023 - 15 October 2023

Minimum Rental Days

3 Nights

16 October 2023 - 31 October 2023

Minimum Rental Days

3 Nights

1 November 2023 - 30 November 2023

Minimum Rental Days

3 Nights
Availability Calendar
Available
Full
Option
Check-in/out
Rooms & Furnishings
1 Duuble Bed

1 Bathroom / WC

2 commode

1 Wardrobe

1 Dressing Table

1 Air Conditioning

2 Single Bed

1 Bathroom / WC

1 commode

1 Wardrobe

1 Air Conditioning
General Features
Private Garden

Fully Furnished and Furnished

Landscape

Pool and Garden Maintenance

Heated Pool

Internet connection

Veranda

Indoor pool

Parking / Parking Lot

Iron / Ironing Board

Washing machine
Kitchen Information
American Kitchen

Dishwasher

Fridge

Built-in oven

Kettle

Dinner set

Glass Set

Dinner table

Chairs
Hall Information
Sitting Group

Air conditioning

TV

Satellite receiver

Wireless Modem

Exit to the Pool Terrace
Pool Garden Information
Private Swimming Pool

Sunbed

Umbrella

Coffee table

Dinner table

Chairs

Barbecue
Villa Special Reviews
Villa evaluate
Distance Ruler
Distance to Airport

45 km

Distance to Beach

3 km

Distance to bus station

20 km

Distance to Market

500 m

Distance to Restaurants

1 km

Distance to Health Center

12 km

15 km