Offers of the week, Deals of the week
---
Regions
You can safely rent a cottage or villa with Villa Plus Turkey by selecting the region you want from among the most beautiful holiday destinations.
---
Glance at our short-term villas
Short Term

Search
Rental Search
Find your dream villa

Send an inquiry for your villa
Options for Renting a Villa for Your Dream Vacation
Rental villa options provide a comfortable and luxurious holiday experience, allowing people who are tired and working all year to take a vacation in the vacation region of their choice. You can move freely in the villas, which provide you with the opportunity to stay in the comfort of home. You can cook your own food in your own kitchen in a sanitary manner, and you can enjoy your meal in front of a magnificent view. Private pools allow you to enjoy the pool regardless of entry/exit times. You and your loved one can rest peacefully in front of the view, away from the eyes and calmly.
Those seeking a peaceful vacation, villa vacation, daily or weekly rental opportunities are available, with options suitable for everyone. Villa Plus Turkey has villa options for everyone, bringing your dream vacation to your feet. In the Villa Plus Turkey portfolio, you can look at villas in various vacation areas. You can return from wonderful vacation routes with happy vacation memories if you take advantage of quality services and short or long-term villa rental options. If you are looking for a comfortable and luxurious vacation, Villa Plus Turkey will provide you with the vacation of your dreams. Visit our rental villas page, where you can easily find the best option for you among a large portfolio of villas by using the filtering features!
What Is the Distinction of Villa Plus Turkey?
Villa Plus Turkey is a villa rental site that is registered with the ETBIS system, which registers businesses that engage in electronic commerce and allows consumers to shop safely over the internet. Customer satisfaction is one of our company's primary goals, and we work hard to achieve it with our expert and experienced team. Those who want to have a pleasant vacation experience with a rental villa should make transactions with reputable and knowledgeable companies. As a result of careful consideration, rental villa options have been added to the Villa Plus Turkey portfolio. Our expert team oversees all houses, taking into account a variety of criteria.
Villa Plus Turkey takes professional photographs of each cottage to be added to the site, including all of its features. You can rent the most suitable rental villa option that will meet your wishes and needs in the safest way possible with the help of the expert team. When selecting a rental villa, consider the features of the villa, such as the number of rooms, the number of beds, and whether or not there is a pool. The information for each villa in Villa Plus Turkey has been completely entered. We, at Villa Plus Turkey, take care of our customers one by one and provide them with the most appropriate cottage for their needs.
Villa Ability to Meet Every Need
Rental villa options are classified based on location features such as sea view, nature view, or central location. Villas can have a variety of features. They are classified based on the number of rooms, pool availability, garden widths, and intended use. There are villas suitable for large families and crowded groups among the holiday rental options, as well as villa options suitable for honeymoon couples. With family villas, you can create dependable vacation spots. If you have children, you can look for villas with kid-friendly pools. You can experience the pleasure of vacationing alone in a peaceful environment by selecting honeymoon villas and villas in the desired location.
You can move freely and comfortably in a private, secure villa environment, and plan your own vacation.
Prices for Renting a Villa for Every Budget
The rental villa alternatives available with a variety of amenities will appeal to people of all tastes and budgets. Within the Villa Plus Turkey, you can assess the rental villa options that are customized to your budget and preferences. You can plan a different and enjoyable holiday program from the memorized holiday understanding by finding the most suitable alternative for you. The cost of renting a villa varies depending on its location and the amenities it provides. On a daily or weekly basis, prices are predetermined based on the length of your stay.
Reliable villa options, which are among the most appealing accommodation options, offer the opportunity to have a one-of-a-kind vacation with early booking discounts. Villa accommodation, which is a safe and affordable vacation option, includes options that appeal to a wide range of demographics, including parents who want to spend a fun vacation with their children, couples who want to get married and go on a honeymoon, and large groups. If you want to open the door to a vacation that fits your budget and tastes, you can take advantage of early booking discounts and choose your path from among dozens of options.
You can book your villa in advance before the high season begins, and you can have an affordable vacation experience by taking advantage of the best deals.
Vacation Opportunity at a Four Seasons Villa
You can take advantage of the winter holiday opportunities with the 4-season holiday opportunity, which appeals to all ages and segments, and you can access the opportunity to stay in the villa in the location of your choice. If you have a large family, you can rent villas that are larger and have more rooms. Couples can expand their vacation understanding beyond the summer months by evaluating their honeymoon villas. You can select options with indoor heated pools from the villas suitable for the winter months that provide quality service.
In the cold winter months, you can take advantage of the opportunity to have a pleasant villa holiday in the indoor heated pools and saunas with affordable villas based on your preferred holiday type. Even on the coldest winter days, you can swim in warm pools thanks to winter villa options. Aside from villa options that allow you to enjoy both winter and vacation, you can also select summer options.
Romantic Villas for Honeymooners
With the many features of the honeymoon villas, you can spend your vacation in a peaceful environment. Summer villa options that meet your needs are available with a variety of lodging options. It promises a one-of-a-kind honeymoon after a wonderful wedding planning. For a relaxing vacation with your loved one, consider renting a villa and spending time in your living room, kitchen, or poolside in private areas. You may come across details such as a jacuzzi, hammock, swing, or table tennis in the rental villa options you select for your vacation destination. Our honeymoon villa plus turkey is perfect for you if you want to make your honeymoon an unforgettable memory.
Alternatives for a Conservative Villa
Those who prefer a more conservative way of life with more conservative villa options can take advantage of the opportunity to vacation at any time of year. You can also select sheltered villas if you want to be alone, if you have a large or nuclear family, or if you are a honeymoon couple. Rental villa options that provide a quiet and comfortable holiday can meet all of your needs. You can enter the pool whenever you want, not just during regular hours. You can select the type of villa you want based on the amenities, number of people, and location.
Take a look at our selection of conservative villas, where you can not only have a good time but also create wonderful memories by experiencing freedom and privacy together!
If you want to enjoy a vacation at any time of year, you can look into the various types of villas available at Villa Plus Turkey and take advantage of safe, comfortable, and cost-effective vacation options.
Inquire for a villa
Get Offer
---
Frequently Asked Questions
---
When you enter the content of the villa you saw and liked on the Villa Plus Turkey website, you can check the availability calendar to see if your dates are available, and then fill out the reservation form section on the side by selecting the dates you want and the number of people.
In the following step, you can enter your personal information as specified on the forwarding page, select your payment method (wire transfer, credit card, Western Union), and send us the reservation request form you created.
Your reservation confirmation will be sent to you along with the payment e-mail after we have reviewed your request and met with the host. Following payment, you will receive a series of pdf files containing your reservation confirmation form, cancellation conditions, and points that our guests should be aware of via the same e-mail address.
You have officially rented our home as of now. You will be contacted two days before your stay at the phone number you provided, and the address of our office as well as the phone numbers of our officials you can contact will be provided.
Our company, whose vision and mission is to provide its guests with a quality and unforgettable vacation, is working with the goal of presenting the holiday home they require to our guests by adding new villas to our structure with a portfolio of more than 500 villas, and we are growing with your satisfaction.
The most popular options on our website are having information about all of our villas and having their visuals kept up to date. We can rely on our information and visuals about this villa, and we can confirm the videos shared by travelers who follow our posts on social media and videos of our villas.
The prices we publish on our website and on social media represent the total cost of the villa. We do not have a per-person application fee. (For example, in a villa with a capacity of four people, the price remains the same whether two or four people stay.)
2 days before your check-in date to the villa, our operations unit will send you a message containing the following information:
*Contact information of the person who will meet you,
*Check-in and check-out times
On the day of your reservation, the person you contact welcomes you and gives you the key to your villa in front of the villa.
We can help you from our homes that accept our pet friends. You can review our categories of pet-allowed villas for these villas.
This is the payment requested from you upon entering the villa for any damages that may occur in the house. The deposit amount varies depending on the villa owner's request. If there is no problem, the villa will be checked upon your departure and the deposit you paid will be refunded to you.
Pool cleaning is done every morning between 05:00 and 09:00 by the house's pool attendant.
Breakfast service is also offered in some of our selected villas.
There are so many options for crowded families. You can review these options on our Villas suitable for large families page.
Our most popular villas suitable for large families;
No, the prices are determined as the nightly price for each villa. The minimum villa stay period is 5 - 7 nights.
Electricity, water, bottled gas usage, internet, pool and garden maintenance expenses and cleaning service at the entrance to the villa are included in the price. In some of our houses, an extra cleaning fee is required for stays of less than 7 nights. If you request extra cleaning service during your stay, you must inform our company or the host 1 day in advance. (Extra cleaning service is provided for a certain fee.)
No, PCR test is not requested from you for villa reservations.
You can make reservations with all debit/credit cards with Master and Visa feature.
Check-in Time to the rental villas is 16:00 / Check-out Time is 10:00.
Within the scope of combating the Covid-19 epidemic, all villas are carefully disinfected both before entry and after exit by expert teams with a qualification certificate from the Ministry of Health, using chemicals approved by the Ministry of Health.
All villas have private parking or a parking area in front of the villas.
Change and cancellation procedures vary for some homes. You can review the details on the cancellation conditions page on our website.
Comments
Take a look at what our guests who booked through Villaplusturkey.com had to say about their vacations.
---

Villa Porto
Fethiye / Fethiye
Villa Porto is an absolutely stunning holiday villa, offering every luxury and comfort you could imagine. It sits proudly at the top of the hill, overlooking the bustling town below, providing fabulous views of the beautiful, scenic coastline of Fethiye. All the rooms are spacious and airy, the beds very comfortable with crisp, fresh linen, and the luxurious bathrooms, particularly the showers, were a stand-out feature for me. We had the most wonderful time, communication with the owner couldn''t have been better, and I would highly recommend a stay at Villa Porto.
Finola Coy / 7.06.2023

Villa Porto
Fethiye / Fethiye
It was a really wonderful experience for us to stay in this villa. It is a brand new, clean and has a wonderful view of Fethiye bay. Just a few basic items can make this villa perfect. Firstly when we got in, there were only a few towels, no toilet paper, no washing liquid/tablet for dishwasher and also no washing tablet for washing machine. We had to go town to buy all. They should be all ready at villa naturally . You don't want to think about these kind of basic essentials while you are on holiday after a long journey. I am sure the kind owners will think about it. Last note ,Villa is top of the hill so be prepared for a climbing .Except these things, our experience with the villa was awesome. Thanks for support of the owners
Aylin Burchill / 5.06.2023

Villa Sogut 1
Fethiye / Fethiye
Dear Talha, Dear Villa providers ! I just wanted to take a moment to express my deepest gratitude for everything you and the Villa Owners have done to make my 1.5 month stay with my Family so comfortable and enjoyable. Your cozy, fully-equipped villa with the best location and great surroundings made it an absolutely perfect getaway, and we couldn''t have asked for a better experience. Thank you for making our stay so memorable. Warmest regards, Alexey and the Family
Alexey Nikitin / 7.03.2023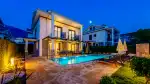 Villa La Vida
Fethiye / Hisaronu
We had a fantastic stay at Villa La Vida, the location is great , just a couple of minutes walk from the main restaurant and shopping area, comfortable beds and great showers, the villa is spacious and clean, we appreciated the mid stay clean & change of bed linen and towels. The outdoor area is beautiful, lovely big pool which is cleaned every day, the garden is well maintained and there is good quality comfortable garden furniture on the surrounding patio areas, a very comfortable place to relax. Villa Plus Turkey were great company to book with, everything was very smooth, including airport transfers, a couple of issues we had on arrival at the villa were dealt with immediately, we would definitely book with them again. The owner of Villa La Vida should take the time to replace missing items & maintain the villa to its original standard, there are a few small repairs that need attention & kitchen crockery needs replacements. A basic cleaning starter pack including toilet paper would also be very useful, if these things were done then this would definitely be a 5 star villa & reviews and bookings would be excellent.
Sylvia Conway / 13.07.2022

Villa Seven 2
Fethiye / Hisaronu
Villa was excellent and new, just like it is on the photos. Perfect and clean private swimming pool. All you need inside, no problems with hot water, etc. Quiet place, but near you can find Migros and Carefure, restaurants etc. Easy to check in and out. Lovely place, hope to return.
Elena / 7.01.2022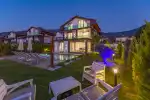 Villa Bella
Fethiye / Hisaronu
Thanks so much for all! It was wonderful place, very nice villa. We were very hospitably welcomed. helped us. They were always in touch with us, answered any requests and questions. Villa has everything you need, very clean and beautiful. Thank you for a wonderful stay. We recommend it!
Alla / 7.01.2022
Blog
You can find information about the regions that you should definitely visit during your villa vacation in Fethiye, Ölüdeniz, Kaş, Kalkan, Bodrum, Marmaris, and its surroundings, as well as all kinds of touristic activities that can be done in these regions, here.
---