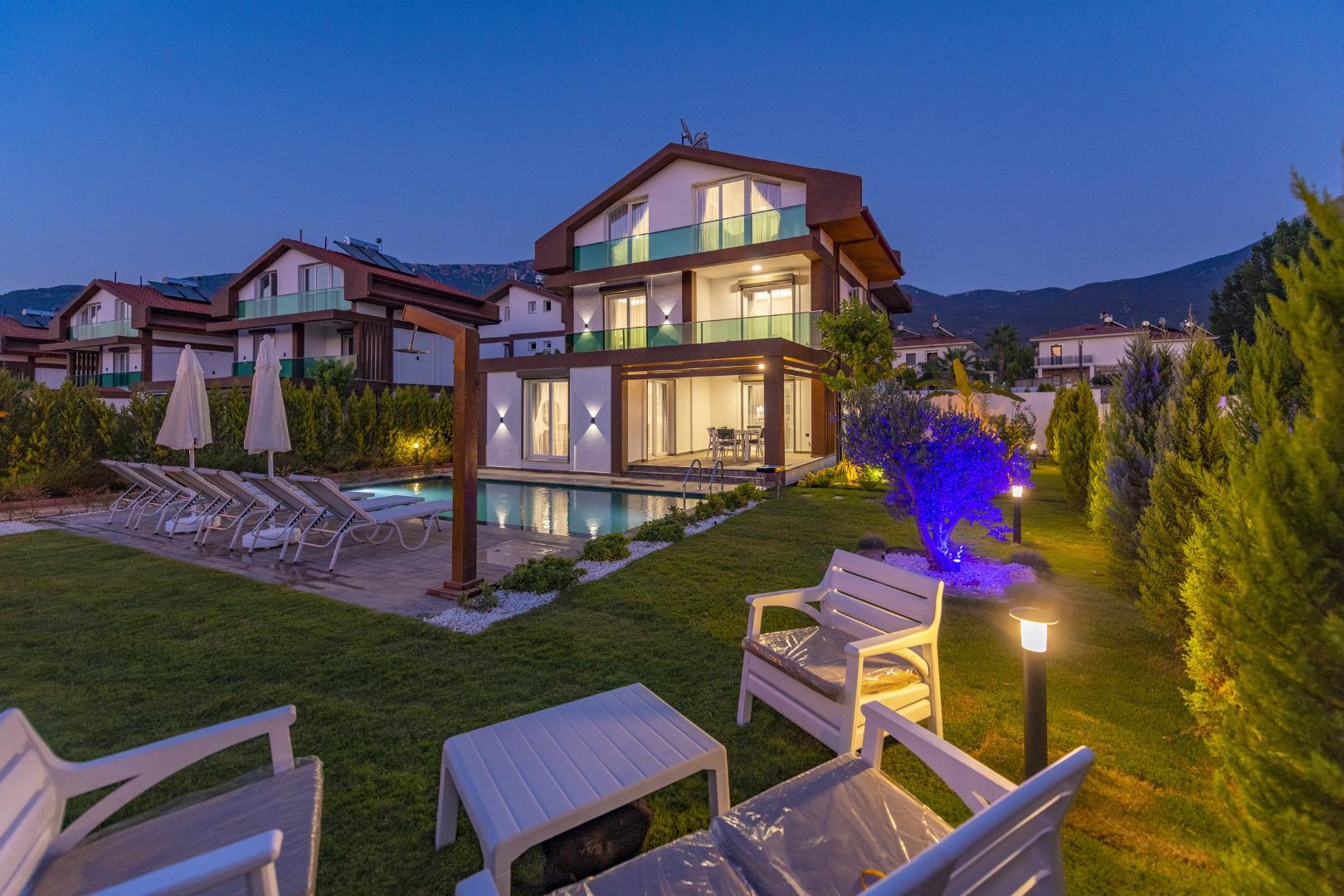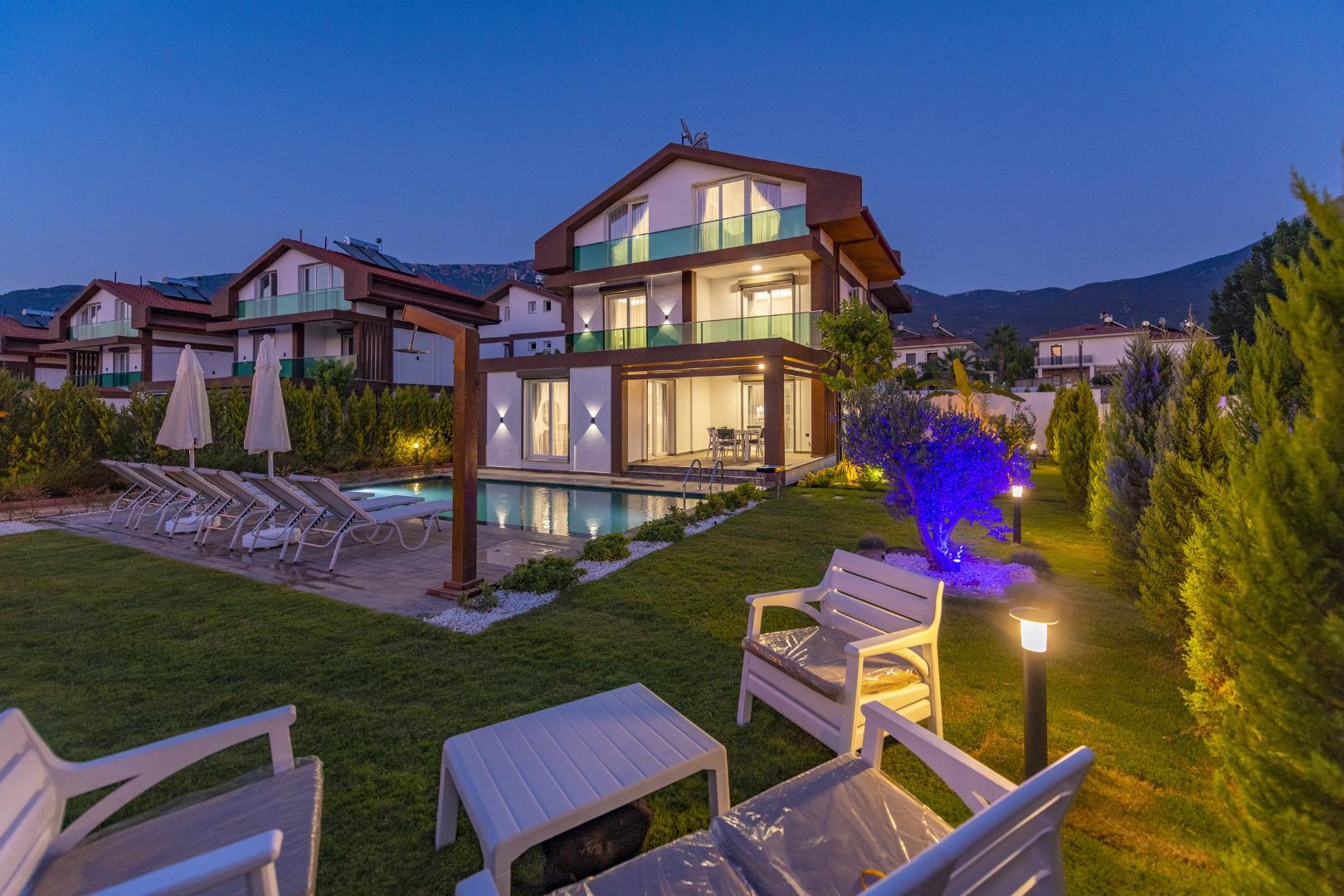 Mugla / Fethiye / Hisaronu
Villa Bella
VR-204
Nightly Price Range
£ 76
-
£ 345
AIR CONDITIONING
There is
Villa Description
This villa option is located in Hisaronu, one of Fethiye's most popular holiday destinations. Our 4-bedroom house with a private pool and a large garden is ideal for large families looking to spend their vacation in comfort and luxury. The garden's 6 sun loungers and 2 umbrellas are designed for you to enjoy the sun all day with your entire family, as well as to enjoy the summer evenings to the fullest with its barbecue and garden set.


Note: Please keep in mind that the pictures of this house, like the pictures of other houses on our site, were taken with a wide-angle lens and professional cameras in order to fit the image to the screen. As a result, the objects in the photographs may appear larger than they are. Furthermore, all of our company's houses are photographed by Professional Photographers.
You can follow our BLOG page for information on places to visit, activities to do, and villa vacations in the Fethiye Region, where our summer house is advertised.
Note: All of our company's houses are sprayed and cleaned for insects and pests on a regular basis. Furthermore, in order to combat the Covid-19 epidemic, this house and all of our villas - apartments are meticulously disinfected both before and after check-in by expert teams with Ministry of Health qualification certificates.
Read More
Features
Central Villa
Swing in the Garden
Garden
Netflix
Large Swimming Pool
Smart Tv
Pool Information
Private Pool Type

Ractangle

Pool Length

7.40 mt

Shelter Status

Unprotected

Pool Width

3.40 mt

Pool Depth

1.45 cm
Services included
Using Electricity

Included in the price

Using Water

Included in the price

Wifi

Included in the price

Pool Care

Included in the price

Gas

Included in the price
Check-in/outTime
Villa check-in Time

16.00

Villa check-out Time

10.00
Rules
No smoking
No pets allowed
Party can't be planned.
Suitable for children (2-12)
Suitable for infants (0-2)
Breakage Deposit

£ 5

Cancellation Policies

SHOW
Weekly Price Chart
16 September 2022 - 30 September 2022

Minimum Rental Days

4 Nights

1 October 2022 - 31 October 2022

Minimum Rental Days

4 Nights

1 November 2022 - 31 March 2023

Minimum Rental Days

5 Nights

1 April 2023 - 30 April 2023

Minimum Rental Days

5 Nights

1 May 2023 - 31 May 2023

Minimum Rental Days

5 Nights

1 June 2023 - 14 June 2023

Minimum Rental Days

5 Nights

Daily 165

£

Weekly 1.157

£

15 June 2023 - 25 June 2023

Minimum Rental Days

5 Nights

Daily 207

£

Weekly 1.446

£

26 June 2023 - 2 July 2023

Minimum Rental Days

5 Nights

Daily 345

£

Weekly 2.412

£

3 July 2023 - 31 August 2023

Minimum Rental Days

5 Nights

Daily 327

£

Weekly 2.287

£

1 September 2023 - 15 September 2023

Minimum Rental Days

5 Nights

Daily 227

£

Weekly 1.591

£

16 September 2023 - 30 September 2023

Minimum Rental Days

5 Nights

1 October 2023 - 31 October 2023

Minimum Rental Days

5 Nights

1 November 2023 - 30 November 2023

Minimum Rental Days

5 Nights
Availability Calendar
Available
Full
Option
Check-in/out
Rooms & Furnishings
1 Duuble Bed

1 Bathroom / WC

2 commode

1 Wardrobe

1 Dressing Table

1 Air Conditioning

1 Duuble Bed

1 Bathroom / WC

2 commode

1 Wardrobe

1 Dressing Table

1 Air Conditioning

1 Duuble Bed

2 commode

1 Wardrobe

1 Dressing Table

1 Air Conditioning

2 Single Bed

1 commode

1 Wardrobe

1 Air Conditioning

1 Bathroom / WC

1 TV

1 Air Conditioning
General Features
Private Garden

Fully Furnished and Furnished

Landscape

Pool and Garden Maintenance

Internet connection

Veranda

Triplex

Balcony

Parking / Parking Lot

Iron / Ironing Board

Washing machine
Kitchen Information
American Kitchen

Dishwasher

Fridge

Built-in oven

Kettle

Dinner set

Glass Set

Dinner table

Chairs

Toast Machine
Hall Information
Sitting Group

Air conditioning

TV

Satellite receiver

Wireless Modem

Exit to the Pool Terrace
Pool Garden Information
Private Swimming Pool

Sunbed

Umbrella

Coffee table

Dinner table

Chairs

Barbecue
Villa Special Reviews
Villa evaluate
Distance Ruler
Distance to Airport

60 km

Distance to Beach

2 km

Distance to bus station

10 km

Distance to Market

500 mt

Distance to Restaurants

500 mt

Distance to Health Center

500 mt

500 mt