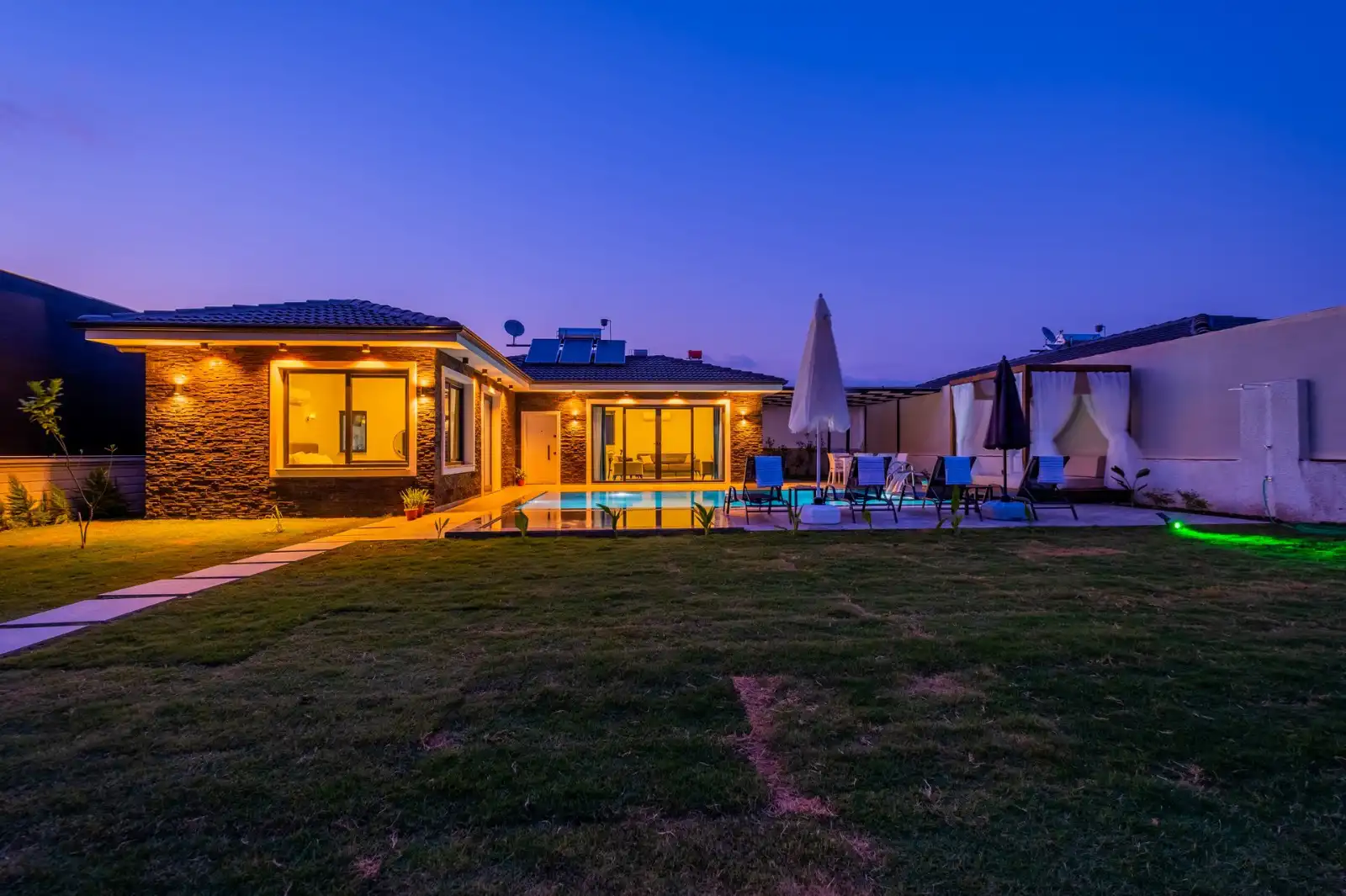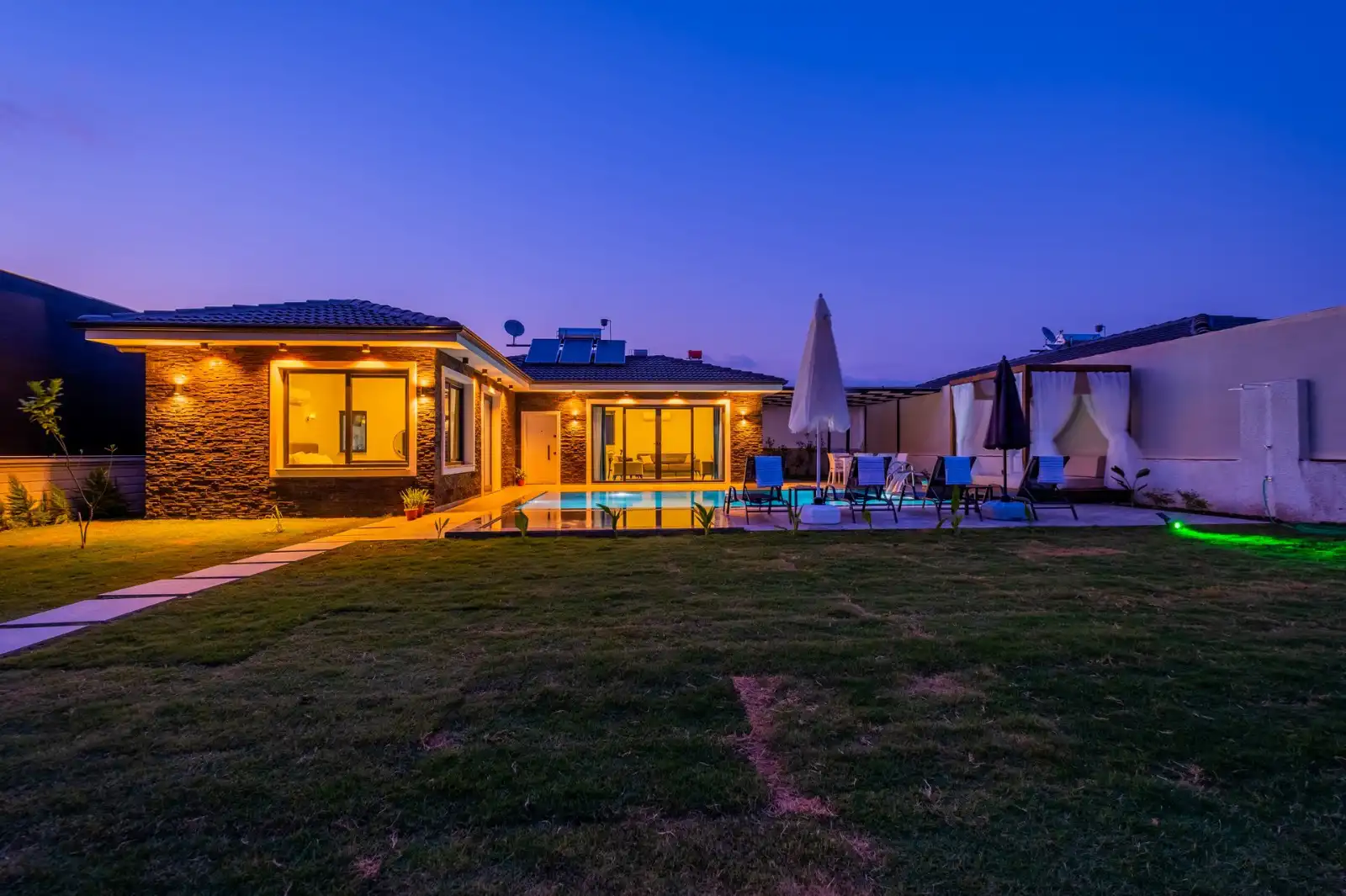 Mugla / Fethiye / Fethiye
Villa Ardic 2
VR-1672
Nightly Price Range
£ 72
-
£ 208
AIR CONDITIONING
There is
Villa Description
Villa Ardıç 2 is located in the Patlangin area of Fethiye district. Fethiye is one of the most preferred holiday destinations in recent times with its calm nature and green view! Villa Ardıç 2 ready to host those who wants to enjoy the peace and holiday with its unique beauty and calmness that does not lose its essence.
The villa with a garden, where you will enjoy the peace, has a capacity of four people. It also has two bedrooms, two bathrooms, a private swimming pool and parking lot. The area, which is located in the American kitchen style, has appliances that will make your work easier, such as a built-in oven, dishwasher, toaster, microwave oven and kettle.
Villa Ardıç 2, which has a simple and elegant design, offers a large and spacious comfort area with its correct and stylish decoration and positioning from its garden to its rooms. It allows you to have a pleasant time with its private sheltered pool, swinging swing and barbecue. Garden lighting allows you to enjoy your evening meals in the garden. In this fully furnished and furnished villa, there is a jacuzzi in the bathroom to relieve the tiredness of the day and offer a better quality rest. There is also a TV in the air-conditioned indoor areas. Complete your reservation now for a unique and quality holiday and enjoy the comfort.
The simple procedure for booking is as follows:
1. You send us an online inquiry form by selecting your dates for the villa that you would like to book.
2. We check the availability of the villa you would like to book and send you the link to you to pay the booking deposit with your credit card.
3. Once the payment has done, we confirm your booking and send you your booking voucher as well as with the payment receipt.
Once your booking is confirmed, the only thing you need to do is to come over here!
Air conditioning, electricity, water and gas, key handling, property maintenance for pool and garden services are included into rental cost.
The closest airport to the villa is Dalaman airport. From Dalaman airport to the villa takes around 2 hours and 15 minutes. If you require an airport pick up, we can arrange your airport transfers any time before you arrive.
Note: All the photos of the villas on our website have taken and edited by professional photographers. The photos of this villa and the other villas on the website have taken with professional cameras with a wide-angle lens to fit the images to the screen perfectly. Therefore, the objects in the photos may appear larger than they are.
You can follow our BLOG page, which includes tips on villa holiday, places to visit and activities to do in Fethiye Region.
All properties rented by Villaplusturkey.com are regularly sprayed and cleaned for insects and pests. In addition, all of our villas and apartments are carefully disinfected by experts with a qualification certificate by the Ministry of Health both before the check-in and after the check outs within the scope of combating Covid-19.
Read More
Features
Central Villa
Jacuzzi
Kid's Pool
Swing in the Garden
Honeymoon Villa
Garden
Smart Tv
Pool Information
Private Pool Type

Ractangle

Pool Length

Shelter Status

Semi Conservative

Pool Width

Pool Depth

Kiddie pool

THERE IS
Services included
Using Electricity

Included in the price

Using Water

Included in the price

Wifi

Included in the price

Pool Care

Included in the price

Gas

Included in the price
Check-in/out Time
Villa check-in Time

16.00

Villa check-out Time

10.00
Rules
No smoking
No pets allowed
Party can't be planned.
Suitable for children (2-12)
Suitable for infants (0-2)
Breakage Deposit

£ 80

Cancellation Policies

SHOW
Weekly Price Chart
29 May 2023 - 18 June 2023

Minimum Rental Days

5 Nights

19 June 2023 - 26 June 2023

Minimum Rental Days

5 Nights

27 June 2023 - 3 September 2023

Minimum Rental Days

5 Nights

Daily 208

£

Weekly 1.459

£

4 September 2023 - 17 September 2023

Minimum Rental Days

5 Nights

18 September 2023 - 30 September 2023

Minimum Rental Days

5 Nights

1 October 2023 - 30 November 2023

Minimum Rental Days

5 Nights
Availability Calendar
Available
Full
Option
Check-in/out
Rooms & Furnishings
1 Duuble Bed

1 Jacuzzi

1 Bathroom / WC

2 commode

1 Wardrobe

1 Dressing Table

1 Air Conditioning

2 Single Bed

1 Bathroom / WC

1 commode

1 Wardrobe

1 Dressing Table

1 Air Conditioning
General Features
Private Garden

Fully Furnished and Furnished

Landscape

Pool and Garden Maintenance

Internet connection

Veranda

Jacuzzi

Parking / Parking Lot

Iron / Ironing Board

Washing machine
Kitchen Information
American Kitchen

Dishwasher

Fridge

Built-in oven

Kettle

Dinner set

Glass Set

Dinner table

Chairs

Toast Machine
Hall Information
Sitting Group

Air conditioning

TV

Satellite receiver

Wireless Modem

Exit to the Pool Terrace
Pool Garden Information
Private Swimming Pool

Sunbed

Umbrella

Coffee table

Dinner table

Chairs

Barbecue
Villa Special Reviews
Villa evaluate
Distance Ruler
Distance to Airport

55 km

Distance to Beach

4 km

Distance to Market

100 mt

Distance to Restaurants

1 km

3 km