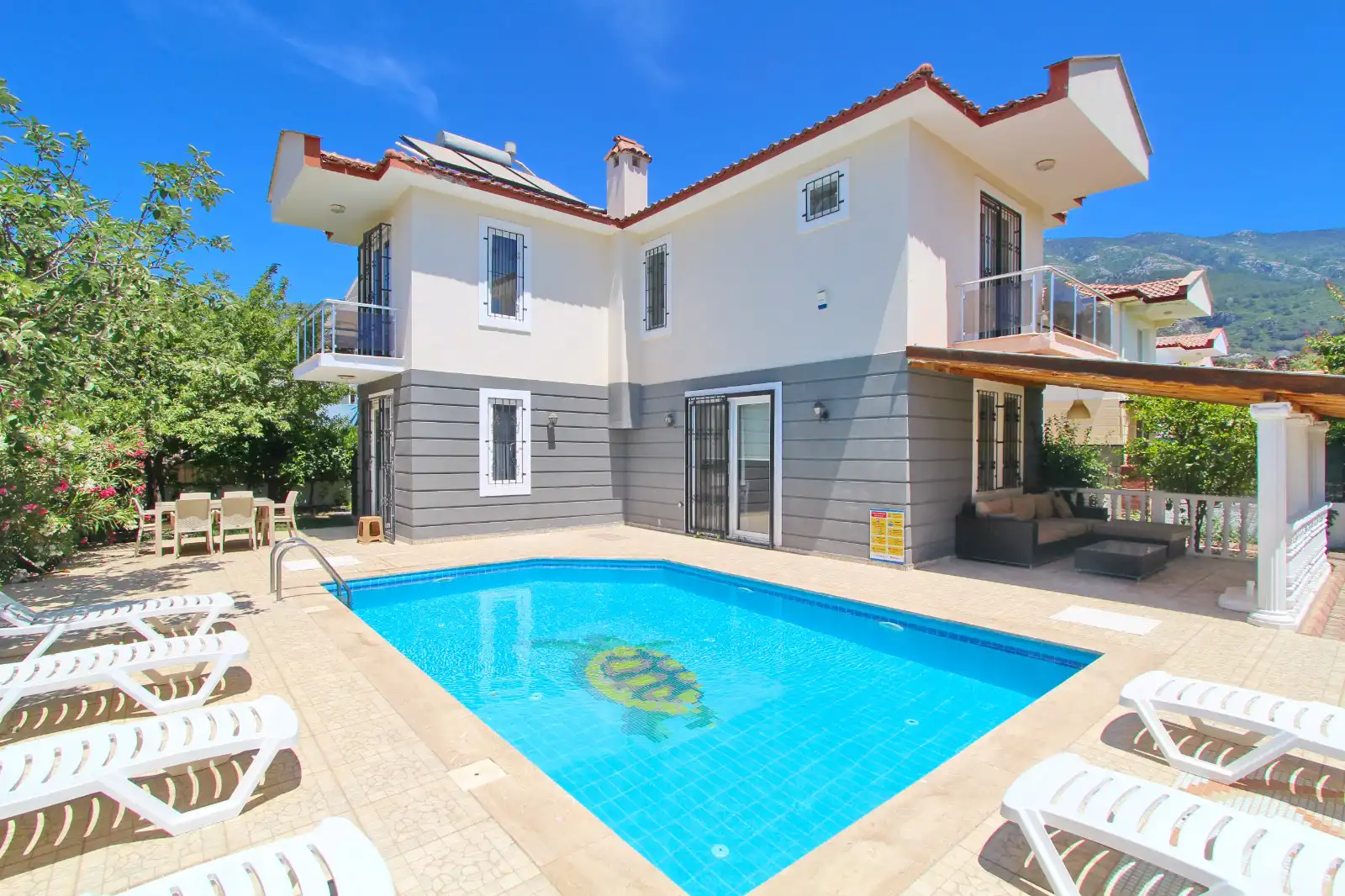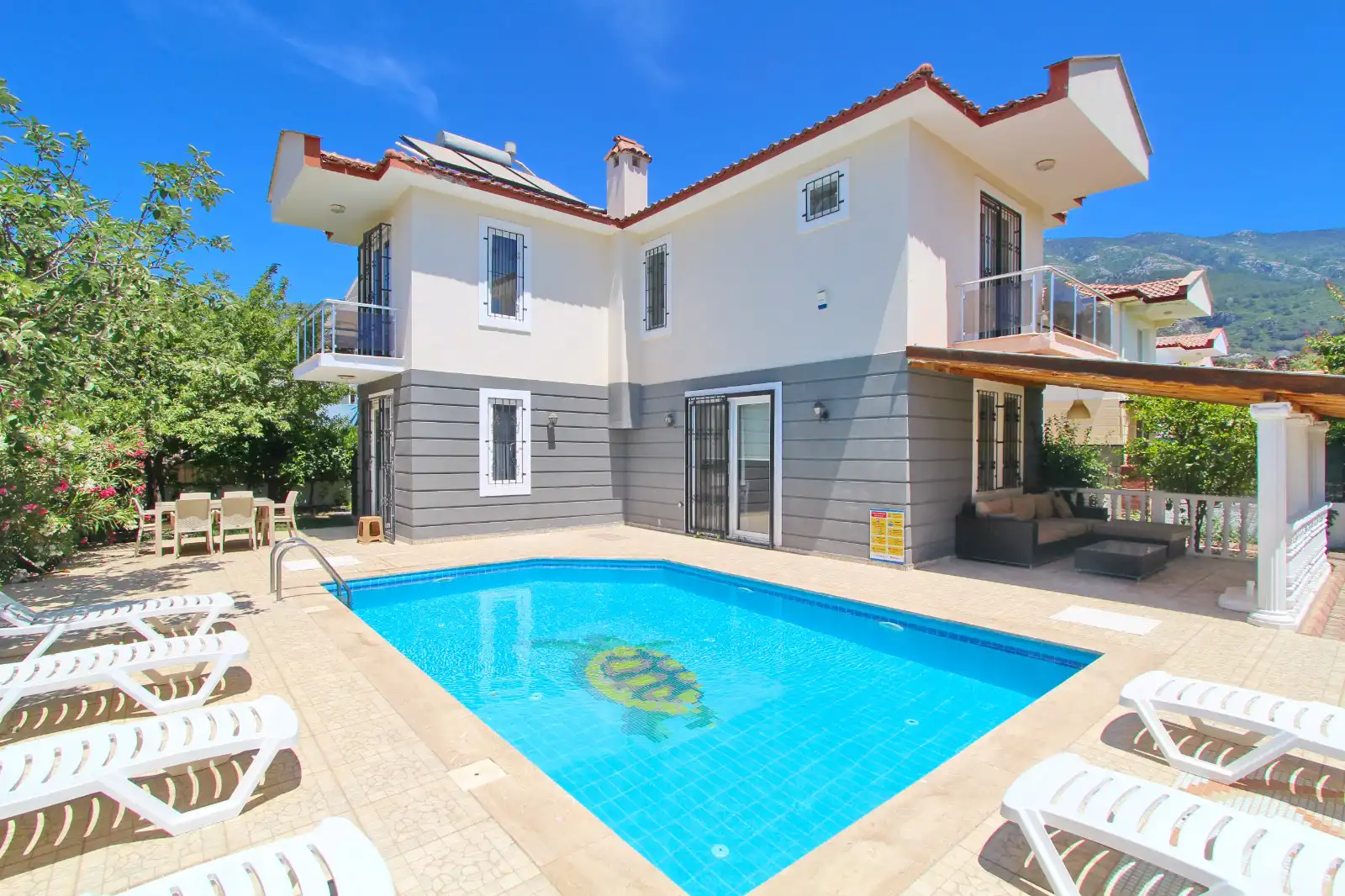 Mugla / Fethiye / Ovacik
VİLLA LOLA
VR-4384
Nightly Price Range
£ 89
-
£ 294
AIR CONDITIONING
There is
Villa Description
Our villa is located in Ovacık, which is the intersection point of all touristic areas of Fethiye. With its location with views of Babadağ and Mendos Mountain, you can have an isolated and healthy holiday with mountain breezes without being overwhelmed by the heat; You can enjoy the sea at the world-famous Ölüdeniz Beach within minutes by car or public transportation whenever you wish.
Our villa, which has 3 bedrooms, 2 bathrooms and toilets, has an accommodation capacity of 6 people. There is a 45 m2 private pool, a large garden where your children can run and play freely, a garden seating set, a dining table and a barbecue. It has been designed for a peaceful holiday where our extended families will feel at home with its fireplace, where you can enjoy the summer evenings in pleasant conversations with your family, balconies and terraces overlooking the nature view you can't get enough of.
The closest airport to the villa is Dalaman airport.
Note: All the photos of the villas on our website have taken and edited by professional photographers. The photos of this villa and the other villas on the website have taken with professional cameras with a wide-angle lens to fit the images to the screen perfectly. Therefore, the objects in the photos may appear larger than they are.
All properties rented by Villaplusturkey.com are regularly sprayed and cleaned for insects and pests.
Read More
Pool Information
Private Pool Type

Ractangle

Pool Length

8 m

Shelter Status

Unprotected

Pool Width

5 m

Pool Depth

1.7 m
Services included
Using Electricity

Included in the price

Using Water

Included in the price

Wifi

Included in the price

Pool Care

Included in the price

Gas

Included in the price
Check-in/out Time
Villa check-in Time

16.00

Villa check-out Time

10.00
Rules
No smoking
No pets allowed
Party can't be planned.
Suitable for children (2-12)
Suitable for infants (0-2)
Breakage Deposit

£ 42

Cancellation Policies

SHOW
Weekly Price Chart
1 May 2023 - 31 May 2023

Minimum Rental Days

3 Nights

1 June 2023 - 15 June 2023

Minimum Rental Days

3 Nights

Daily 145

£

Weekly 1.013

£

16 June 2023 - 27 June 2023

Minimum Rental Days

3 Nights

Daily 180

£

Weekly 1.258

£

28 June 2023 - 31 August 2023

Minimum Rental Days

3 Nights

Daily 294

£

Weekly 2.059

£

1 September 2023 - 10 September 2023

Minimum Rental Days

3 Nights

Daily 200

£

Weekly 1.399

£

11 September 2023 - 30 September 2023

Minimum Rental Days

3 Nights

1 October 2023 - 31 October 2023

Minimum Rental Days

3 Nights

1 November 2023 - 29 December 2023

Minimum Rental Days

3 Nights

30 December 2023 - 1 January 2024

Minimum Rental Days

3 Nights

Daily 182

£

Weekly 1.274

£
Availability Calendar
Available
Full
Option
Check-in/out
Rooms & Furnishings
1 Duuble Bed

1 Bathroom / WC

2 commode

1 Wardrobe

1 Air Conditioning

1 Duuble Bed

1 commode

1 Wardrobe

1 Air Conditioning

2 Single Bed

1 commode

1 Wardrobe

1 Air Conditioning

1 Bathroom / WC

1 TV

1 Air Conditioning
General Features
Private Garden

Fully Furnished and Furnished

Landscape

Pool and Garden Maintenance

Internet connection

Veranda

Balcony

Parking / Parking Lot

Iron / Ironing Board

Washing machine
Kitchen Information
American Kitchen

Dishwasher

Fridge

Built-in oven

Microwave oven

Kettle

Dinner set

Glass Set

Dinner table

Chairs
Hall Information
Sitting Group

Air conditioning

TV

Satellite receiver

Wireless Modem

Exit to the Pool Terrace
Pool Garden Information
Private Swimming Pool

Sunbed

Umbrella

Coffee table

Dinner table

Chairs

Barbecue
Villa Special Reviews
Villa evaluate
Distance Ruler
Distance to Airport

56 km

Distance to Beach

5 km

Distance to bus station

7 km

Distance to Market

600 m

Distance to Restaurants

700 m

Distance to Health Center

1.8 km

1.8 km