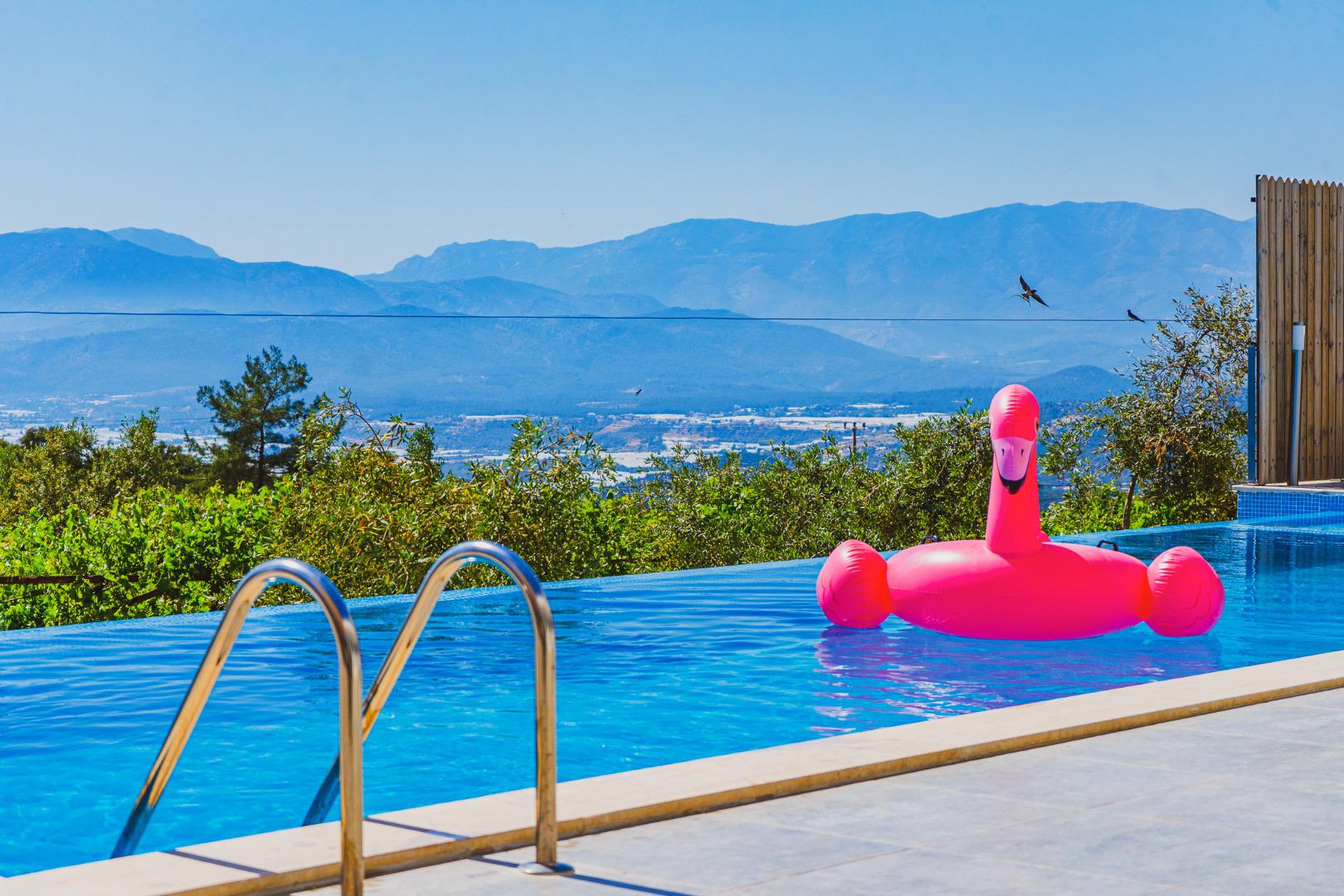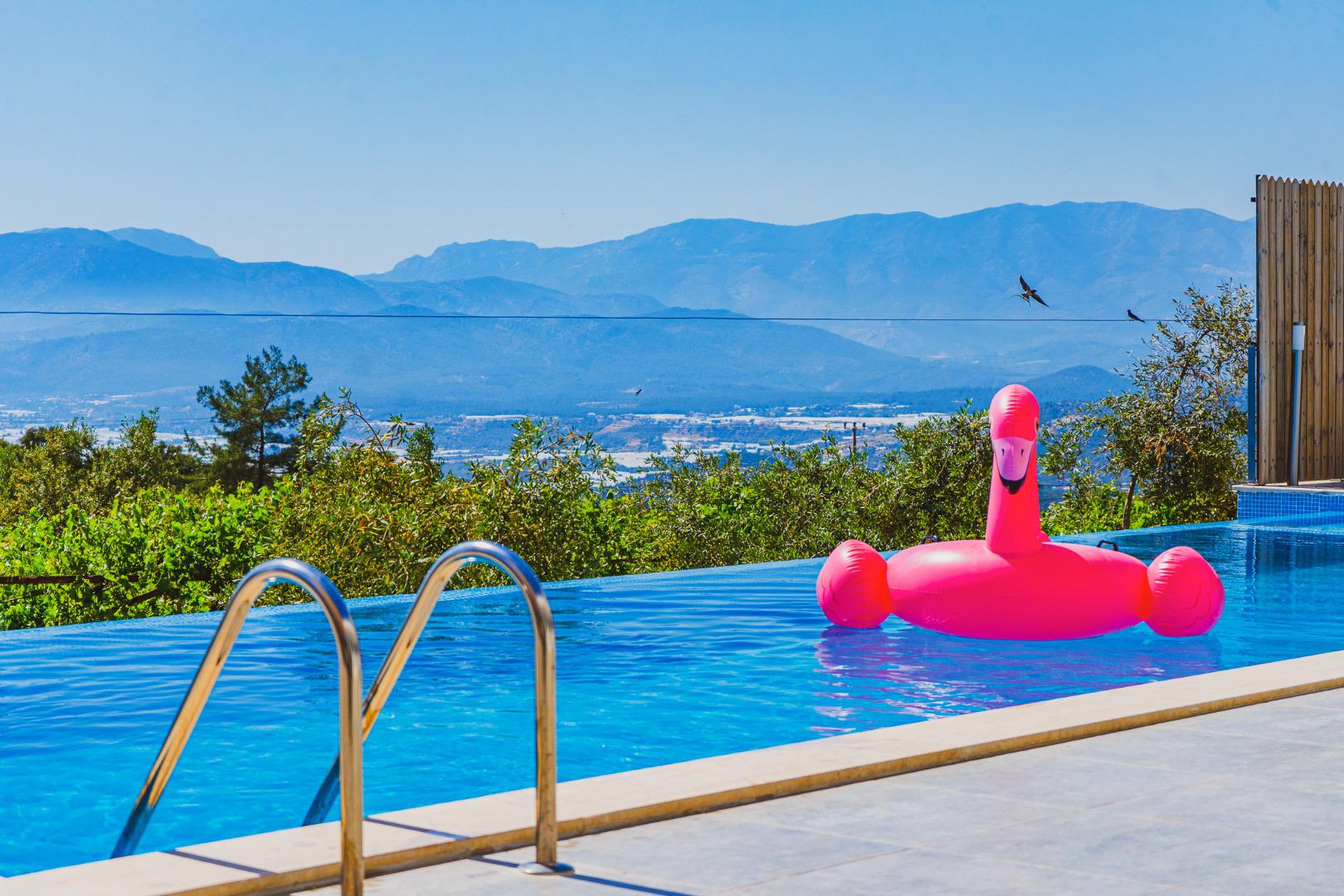 Antalya / Kalkan / Kiziltas
Villa Antik
VR-315
Nightly Price Range
£ 164
-
£ 321
AIR CONDITIONING
There is
Villa Description
Our villa is in the Kaş/Kalkan holiday resort of Kzltaş in Antalya. It has a breathtaking view of nature and the sea. Because of its proximity to the central and touristic areas, it is both cost effective and provides a versatile holiday opportunity for our extended families.
Our villa sleeps six people and has three bedrooms, three bathrooms, and a toilet. The living room has a fireplace and a large garden that can be accessed directly from the living room. There is an infinity pool with a 38m2 sea view, garden seating and dining table, sun loungers, umbrellas, and a barbecue in the garden.

With its jacuzzi located in the master room from the bedrooms and panoramic views, it was designed to provide an unusual holiday experience to our crowded families.
PLEASE NOTE THAT PAYMENTS FOR THIS VILLA ARE ONLY ACCEPTED IN POUNDS.
Read More
Features
Sea View
Private Pool
Garden
Pool Information
Private Pool Type

Ractangle

Pool Length

8.5 mt

Shelter Status

Fully Sheltered

Pool Width

4.5 mt

Pool Depth

1.60 cm
Services included
Using Electricity

Included in the price

Using Water

Included in the price

Wifi

Included in the price

Pool Care

Included in the price

Gas

Included in the price
Check-in/outTime
Villa check-in Time

16:00

Villa check-out Time

10:00
Rules
No smoking
No pets allowed
Party can't be planned.
Suitable for children (2-12)
Suitable for infants (0-2)
Breakage Deposit

£ 100

Cancellation Policies

SHOW
Weekly Price Chart
1 April 2023 - 30 April 2023

Minimum Rental Days

5 Nights

Daily 164

£

Weekly 1.150

£

1 May 2023 - 31 May 2023

Minimum Rental Days

5 Nights

Daily 200

£

Weekly 1.400

£

1 June 2023 - 30 June 2023

Minimum Rental Days

5 Nights

Daily 250

£

Weekly 1.750

£

1 July 2023 - 31 August 2023

Minimum Rental Days

5 Nights

Daily 321

£

Weekly 2.250

£

1 September 2023 - 30 September 2023

Minimum Rental Days

5 Nights

Daily 250

£

Weekly 1.750

£

1 October 2023 - 31 October 2023

Minimum Rental Days

5 Nights

Daily 200

£

Weekly 1.400

£
Availability Calendar
Available
Full
Option
Check-in/out
Rooms & Furnishings
1 Duuble Bed

1 Jacuzzi

1 Bathroom / WC

2 commode

1 Wardrobe

1 Dressing Table

1 Air Conditioning

1 Duuble Bed

1 Bathroom / WC

2 commode

1 Wardrobe

1 Dressing Table

1 Air Conditioning

2 Single Bed

1 Bathroom / WC

2 commode

1 Wardrobe

1 Dressing Table

1 Air Conditioning
General Features
Private Garden

Fully Furnished and Furnished

City View

Pool and Garden Maintenance

Internet connection

Veranda

Jacuzzi

Balcony

Sea View

Parking / Parking Lot

Iron / Ironing Board
Kitchen Information
American Kitchen

Dishwasher

Fridge

Built-in oven

Microwave oven

Kettle

Dinner set

Glass Set

Dinner table

Chairs

Toast Machine
Hall Information
Sitting Group

Air conditioning

TV

Satellite receiver

Wireless Modem

Exit to the Pool Terrace
Pool Garden Information
Private Swimming Pool

Sunbed

Umbrella

Dinner table

Chairs

Barbecue
Villa Special Reviews
Villa evaluate
Distance Ruler
Distance to Airport

125 km

Distance to Beach

2.3 km

Distance to Market

500 m

Distance to Restaurants

1 km

1.9 km